Deborah Barylski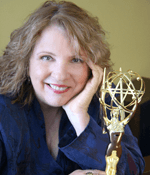 Deborah Barylski (Master's in Directing, 1973) is an Emmy-Awarding winning casting director, a career that spans twenty-nine years (1981-present). Some of her most recent credits are ARRESTED DEVELOPMENT, THE MIDDLE, LIFE WITH BONNIE, STILL STANDING, HOME IMPROVEMENT and JUST SHOOT ME, as well as past favorites FRANK'S PLACE, THE FAMOUS TEDDY Z, THUNDER ALLEY and DOCTOR, DOCTOR. She also cast the feature PASTIME, which won the Audience Award at Sundance in 1990. She was nominated for the Artios Award for excellence in casting seven times, and won the Artios in 2004 for ARRESTED DEVELOPMENT.
She trained for her casting career at the prestigious MTM Studios where she worked on such classics as ST. ELSEWHERE, LOU GRANT, THE BOB NEWHART SHOW (the one with the Inn), REMINGTON STEELE and THE DUCK FACTORY (Jim Carrey's first television show). Before casting on her own, she worked with Blake Edwards on a CITY HEAT and MICKI AND MAUDE, and with Taylor Hackford on WHITE NIGHTS.
Before breaking into casting, Barylski help a number of positions that grew out of her two-year graduate assistantship in theatre management. Her first job after graduate school was as the Box Office Manager for the Inaugural Season of the Braden Auditorium,  1973-74. From there, she was awarded the first Robert C. Schnitzer Internship in Theatre Management from The University of Michigan in Ann Arbor, where she served as the Assistant Manager of the Professional Theatre Program. During the yearlong internship she supervised publicity and promotion for the Theatre Department productions, for a professional theatre series at the Power Center, and for one-month residency of John Houseman's The Acting Company. She also organized an International Experimental Theatre Festival held in on the University campus.
She came to the attention of Dr. Ralph W. Duckwell, Theatre Chair at California State Long Beach, who recruited Barylski to his faculty in 1975. She taught acting, directing and theatre management as well as serving as Business Manager of the department for three years. While in Long Beach, she also served as Company Manager for The Dance Company, a professional dance company based in Pasadena, California and Business Manager for Long Beach Civic Light Opera. In 1978 she moved to Alaska to become the Publicity Director and Box Office Manager of the Performing Arts Center at the University of Alaska campus in Anchorage. She held this position for two years before returning to Los Angeles to serve as the Publicity Director for South Coast Rep in Costa Mesa, California.
Her first love is the theatre and she has directed in theatres in Michigan, Illinois, California, and Alaska. She has directed classics (THE IMPORTANCE OF BEING EARNEST and JACQUES BREL), but the bulk of her experience is working with new plays, as she loves the collaboration with the playwright in the play's development. She was the assistant director and contributing editor to the world premier of TRACERS, a play that opened at the Odyssey Theatre in L.A. in 1981, with further productions in New York, Chicago, and an international tour. Her most recent full-length directorial outing, the world premier of SOLACE by Jake Jay Clark (ISU Theatre alum, 1975), garnered three L.A. Weekly Award nominations, including "Best Direction," "Best Original Play," and "Best Ensemble." She has directed over twenty-five one acts and numerous staged readings of full-length new plays by playwrights Catherine Butterfield, Casey DeFranco, Stephen Bauer, Oded Gross among others - some of those readings were held under the auspices of the Audrey Skirball-Kenis play reading series. In 2007 she was selected to direct in the Ojai (California) New Play Series.
For ten years (1989-99), Barylski served on the Board o f the New Harmony Project, a writer's workshop held in Indiana. Since 1987, writers of plays, musicals and screenplay have been invited to spend two weeks with directors, dramaturgs and actors - not unlike the Theatre Institute at Sundance or the Humana Festival at the Actors Theatre of Louisville. Among the participating writers with whom Barylski worked are Robert Schenkkan, Mark St. Germain, Jamie Redford, Theresa Rebeck, Warren Leight, Horton and Daisy Foote, Lee Blessing, Shane Black, Leslie Ayvazian, John Pielmeyer, Arthur Giron.
For the past twenty-five years she has held seminars in the business of acting and audition/cold reading techniques in Los Angeles, Chicago, San Francisco, St. Louis, San Diego, New York and Vancouver amongst others. In addition to serving on the faculty at Cal State Long Beach, she has also served on the faculties of Cal State Northridge, Cal State Fresno (the Summer Arts program) and Aaron Speiser Studios in L.A. She has been a guest artist at ISU, DePaul University in Chicago, Ball State University, James Madison University, San Diego State University, Larry Moss Studio and Scott Sedita Acting Studio in L.A., and CSSSA, a summer arts program held at Cal Arts for gifted high school students.
Barylski is particularly proud of the significant role she played in the unionization process for the casting directors. Two previous attempts to unionize had failed, so in 2003, when the Teamsters approached the casting directors about helping them organize, all realized that this could be their last chance. After a relentless three-year campaign, the casting directors were finally recognized as a union in January 2006, under the auspices of the International Brotherhood of Teamsters. Prior to 2006, freelance casting directors had no health benefits, no minimum wage, no maximum hours and no retirement package. This is the legacy she leaves to her profession.
Barylski holds professional memberships in The Casting Society of America and The Academy of Television Arts and Sciences, and the Teamsters. She was a member of the American Theatre Association for twenty-five years. She holds a B.A. in Theatre from Southern Illinois University Edwardsville, and her M.S. in directing from ISU. She resides in Santa Monica, California.
"I loved my time at Illinois State University and believe that being in that crucible of talented students and professor life. Looking back, I believe I was most influenced by faculty members Dr. Calvin L. Pritner and Dr. John W. Kirk.
Fondest memories? Play "Nellie Forbush" in SOUTH PACIFIC and anything that happened in Allen Theatre.My advice to students? First: stay in the moment. Enjoy your time in college (or wherever you are); it will never come again. Second, do your footwork. You must be ready when opportunity knocks. Third, be open to what the universe sends your way, even if what appears is not in your "plan" or part of your agenda."