Michael Dice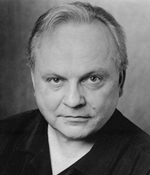 Michael David Dice, Sr., a South Bend, Indiana native, received his bachelor's degree in theater and speech from Illinois State University in 1971. In the winter of 1969, he married ISU speech/English graduate Kathleen Gasperec. Together they raised Sara and Michael, Jr., who also graduated from Illinois State. Both children are actively involved in theatre following in their father's footsteps. 
Michael, Sr. acted throughout college, appearing as Dick Dungeon in The Devil's Disciple, Rodolfo in A View from the Bridge , Argon in Tartuffe , Ligurio in The Mandrake , and Monsewer in The Hostage . During the summers throughout college, he appeared with contemporaries Michael Gross and Shelley Long at Timber Lake Play House . His plans of acting professionally changed when Mike was offered a teaching job at Lake Park High School in Roselle, IL, in 1971. Directing two plays a year at the beginning of his career, this grew to five by the end of his career, including two musical productions each year. His students performed sophisticated pieces by Arthur Miller and Tennessee Williams as well as Gillbert and Sullivan, and Shakespeare classics. During his time in charge of the program, Lake Park theatre expanded to a nine production season which could involve as many as four hundred students over the course of the next school year.
The Illinois State High School Theatre Festival was another highlight for Mike and his Lake Park students. Mike directed them in festival shows The Prime of Miss Jean Brodie, Tartuffe, and Romeo and Juliet. Under Mike's direction, in 1980, 1987, and 1992, Lake Park High School won the Illinois High School Association's state drama contest with I Never Sang For My Father, To GIllian on Her 37th Birthday, and Dancing at Lughnasa. His contest plays made it to the state finals eighteen times in his career. He enjoyed participating at state competitions and seeing all his fellow Illinois State University Theatre Friends.
He would bring together an extremely diverse array of students, who would find themselves in a mix of the stereotypical drama nerd, next to the star athlete, next to the would-be delinquent who lifted a couple of car tires over the weekend. With his tireless support of students, Mike inspired many to pursue theater and film careers. He was twice selected by honorees and the Lake Park Educational Foundation as the most influential teacher of the Distinguished Alumni recipients. At the same time he found time to perform himself, as well as direct, with the Elgin Community Theatre, including Judas/John the Baptist in Godspell , with Independent Players as McMurphy in One Flew Over the Cuckoo's Nest, at Hemmens Auditorium as the Pirate King in Pirates of Penznace , and Pasquale in Most Happy Fella , and at the Woodstock Opera House as Herbie in Gypsy .
During his time as a teacher/director at Lake Park High School, Mike earned his master's degree from National Louis University and served as union president of the Lake Park Education Association for over twenty years. In the early 190s he served as Union Chair of the Illinois Education Association. During his reign as LPEA president, Mike negotiated the first six-year contract for his school which covered 1997 through 2003. This same contract was rolled over for another three years after Mike had retired.
One of the most rewarding experiences Illinois State University provided for mike was his appearance on the G.E. College Bowl during the late 1960's. Open to the entire student body, the four-person team consisted of two theater majors, revealing the caliber of intelligence and talent of the department at this time. Another honor given to mike was being named Distinguished Alumnus by the Theatre Department in 2000.
Long time friend and mentor Sandy Zielinski knew how much Mike respected and admired the entire theatre department at Illinois State University. The number of theatre majors at ISU from Lake Park High School attests to this. For many Lake Park students, Illinois State was their first and only choice because of Mike Dice's experiences there and his respect of its faculty. Along with Sandy, John Kirk, and Cal Printer were two other theatre professors who inspired Mike and helped shape his life into a legacy.
When Michael Dice retired from teaching in 2001, he focused on auditioning and performing in plays. In 2002 he landed his first major role in the Stage Left production of Prairie Lights. He was on his way to the production when he suffered a fatal heart attack. Mike always had a positive outlook and lived life to the fullest. He followed his own words, "Love what you're doing, not what you've done." In February, 2006, Lake Park High School named its newly renovated theatre the Michael D. Dice, Sr. Auditorium.