Randy Duncan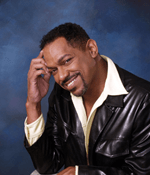 Randy Duncan has the unique privilege to be a three-time recipient of CHicago's prestigious Ruth Page Award for Outstanding Choreographer of the Year. Other awards include the 1999 Artistic Achievement Award from the Chicago National Association of Dance Masters and the 1999/2000 Black Theatre Alliance Awards for Best Choreography
His career began at age fifteen with the Joseph Holmes Dance Theatre, rising from dancer to resident choreographer and upon the death of Mr. Holmes, Artistic Director. Using elements of ballet, jazz, African and modern dance, he has created works for the Joffrey Ballet, River North Chicago Dance Company, GIordano Jazz Dance CHicago, Spectrum Dance Company (Seattle, Washington), Bat Dor Dance COmpany of Israel and the Tennessee CHildren's Dance Ensembles.
His musical theatre credits include choreographing and appearing in Street Dreams, West Side Story, Carousel, Hello Dolly, Don't Bother Me I Can't Cope, and Guys and Dolls. His affiliation with Chicago's Goodman Theatre has helped create acclaimed works such as Zoot Suit, Drowning Crow, The Rose Tattoo, and Heartbreak House. His choreography for APple Tree Theatre's production of Once On This Island earned him a Jeff nomination, while more recently, his work for Apple Tree's Hello Again earned him the 2005 Gay Chicago Magazine After Dark Award for Choreography. Having worked in prominent regional theatres such as South Coast Repertory (Costa Mesa, CA), Actor's Theatre (Louisville, KY) and Shakespeare Theatre (Washington, DC), he continues his work with director Kate Whoriskey on such plays as Antigone, Clean House, Amadeus, The Tempest and Caucasian Chalk Circle.
Mr. Duncan's first major motion picture (by Paramount Pictures), Save the Last Dance, starring Julia Stiles, earned him a nomination for the American Choreography Award for dance on film. His made for television ballet, Urban Transfer, was produced and distributed nationwide by Public Television Station WTTW. With the production efforts of HMS media, he has since been seen on several PBS series on dance in Chicago.
An avid supporter of HIV/AIDS causes, for the past 11 years, he has donated his time and choreography to Dance For life , creating world premieres for Chicago's largest dance benefit for HIV/AIDS.
Mr. Duncan, an African-American is a native of Chicago and began his dance studies with Geraldine Johnson, followed by classes at the Sammy Dyer School of Theater, Alvin Ailey American Dance Center, and Illinois State University.
His guest classes in jazz dance with African influence have brought him to England, France, Amsterdam, Israel, and on an annual basis to Mexico. He teaches at colleges, universities, and high schools nationwide. For the past 12 years, he has been on the faculty of the Chicago Academy of the Arts High School. You may also see him sitting on the panels of the NEA, IAC, and Arts Midwest.
"Illinois State University gave me the opportunity to hone my skills not only as a performed, but to the delight of many fellow classmates and professors alike, a teacher and choreographer. I remember coming to ISU as a vocal music major, under the skillful and talented direction of Mr. Peter Sheutz. Although I attended the school of music, much of my time was spent in the dance studio taking classes with Diane Smith, Don Colvin and a few other dance teachers in the late 70's. I was also chosen to be in the ISU Dance COmpany which performed in and around campus during my stay at ISU. Although I had gained much as a professional dancer with the Joseph Holmes Chicago Dance Theatre since age 15, Illinois State University provided me with choreographic and teaching opportunities that had not previously existed in my life. Through the many dance concerts and musical performances, it helped mold me into the maker of dance I am today. For this, I am eternally grateful!"