Chris Jaudes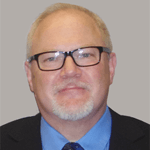 "I came to Illinois State as a freshman in the fall of 1975–received my B.M. in trumpet performance in 1979, then my M.M. degree in 1980. I then joined the faculty as a trumpet instructor until I left in the spring of 1981. I chose to attend ISU on the recommendation of my trumpet teacher who had graduated from Indiana University with Herbert L. Koerselman, then the trumpet professor here at Illinois State University. It turned out to be the right place for me. Dr. Koerselman was a taskmaster, He set the bar very high for me. He inspired me to work beyond whatever natural abilities I had and taught me that music was more than playing notes on a page.
Along with Dr. Koerselman, Ed Livingston, Benny Kemp, Donald Armstrong, James Roderick and others taught us beyond the technique and skill building, music was away to change the hearts of others.
Chris received his Bachelor of Music and Masters of Music in Trumpet Performance at Illinois State University where he studied trumpet with Dr. Herbert L. Koreselman. Following graduation, CHris returned to St. Louis where he became lead trumpet with the St. Louis where he became lead trumpet with the St. Louis Municipal Opera, the Fox Theatre Orchestra and was a frequent player with the St. Louis Symphony Orchestra.
Over the years, Chris has become a well-known trumpet player and educator for his work in jazz, classical, and musical theatre in New York City. A much sought-after lead trumpet player on Broadway, his credits include Sunset Blvd. with Glenn Close, Ragtime, Steel Pier, On the Town, Flower Drum Song, Annie Get your Gun with Bernadette Peters, Pajama Game with Harry Connick Jr., Mother Courage and her Children with Meryl Streep, Hair, How the Grinch Stole Christmas and Faust by Randy Newman. Both the Wall Street Journal, and the New York TImes cited his outstanding trumpet solos in the Broadway production of Gypsy starring Bernadette Peters.
He can be heard on the Grammy award-winning albums of Annie Get your Gun and Gypsy, as well as cast albums of Flower Drum Song, Ragtime, Sunset Blvd, and Steel Pier. Chris was also featured on numerous recordings as lead trumpet with Integrity Music, including a historical concert celebrated the end of apartheid in South Africa.
Since 2004, Chris has toured with Paul Anka around the world–from Vancouver to Mongolia–as lead trumpet with this vocal legend. Other luminaries he has performed and recorded with include Doc Severinsen, Bob Hope, B.B. King, Ron Kenoly, Ray Charles, Mikhail Baryshnikov, Shania Twain, Barry Manilow, Idina Menzel, Celine Dion and many more.
Since 1980 Chris has taught aspiring trumpet players at the university level. In Illinois, he taught students at Illinois State University and South Illinois University. In the New York area, he has been trumpet instructor at Hofstra University and Long Island University. He currently teaches at The New School for Jazz and Contemporary Music and has served on the faculty at the famed Juilliard School of Music since 2005