Janet Koplos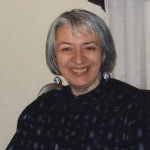 Janet Koplos is an art critic and arts editor who lives in New York City. She completed her master's degree in art history from the Wonsook Kim College of Fine Arts at Illinois State University in 1984. She holds a B.A. from the University of Minnesota School of Journalism and Mass Communication. Since 1988 she has been associated with Art in America magazine, first as a freelancer, then a staff editor, now a contributing editor, and she recently served as guest editor for several issues of American Craft magazine.
Koplos has a particular interest in American, Japanese and Dutch contemporary art, and in American contemporary crafts. She has also written about design, architecture, landscape architecture, theatre and other creative fields, and has reviewed books for several publications. Altogether, she has published more than 2,500 articles, reviews, and essays in newspapers, magazines, and catalogues in America, europe and Japan. AMong her magazine subjects are Gijs Bakker, Peah Coyne, Ellen Driscoll, Oliver Herring, Andrew Lord, Ed Moses, David Nash, Rona Pondick, Martin Puryear, Hiroshi Sugimoto, Anne Wilson and Ursula von Rydingsvard; among her catalog subjects are Wendell Castle, Daniel Clayman, Richard De Vore, Leslie Dill, Ruth Duckworth, Diane Itter, Winifred Lutz, Joel Philip Myers and Therman Statom.
She is the co-author (with Bruce Metcalf) of Makers: A History of American Studio Craft, an undergraduate textbook that is the first history of the field (university of North Carolina Press, 2010.) Other books in contemporary crafts for which she is sole or contributing author include A Chosen Path: The Ceramic Art of Karen Karnes (University of North Carolina Press, 2010), Betty Woodman (Monacelli, 2005), Teun Hocks (Aperture, 2005), Gyöngy Laky (Telos, 2003), The Unexpected: Artists' Ceramics of the 20th Century and Choice From America: Modern American Ceramics (Museum Het Kruithuis, the Netherlands, 1997 and 1999).
Her first book was Contemporary Japanese Sculpture (Abbeville Press, 1991), written after she lived in Tokyo from 1984 to 1989, where she was the art critic for the Asahi Evening News, an English-language daily published by the Asahi Shimbun. In American periodicals her Asian coverage includes the Mono-ha movement, Japanese folk crafts (Mingei), architects Kenzo tange, Arata Isozaki and Tadao Ando, and a great many Japanese artists.
Koplos lectures, juries and critiques frequently, has taught at Parsons the New School for Design (New York) and University of the Arts (Philadelphia) and is a member of the Association Internacionale des Critiques d'Art and the College Art Association.
Her honors include membership in Phil Beta Kappa (scholastic honorary) and Kappa Tau Alpha (journalism honorary) and an art critic's fellowship from the national endowment for the Arts. In 2010, in addition to her Hall of Fame honor, she was named the 2010 Honorary Fellow of the American Crafts Council.