Jon Pounds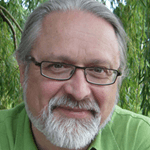 Jon Pounds, raised in cow pastures of Wisconsin and the cornfields of Illinois, received his B.S. in Art Education (1970) and his M.A. in Sculpture (1971) from Illinois State University. After graduation, Pounds taught art in the Bloom High School district in the southern suburbs of Chicago. There he began his life long work of utilizing public art to create community dialogue and transform everyday spaces.
When students ask to paint a mural, he and fellow teacher, Olivia Gude, initiated a program that produced many conceptually and aesthetically challenging murals. Pounds and Gude later created gallery installations and non-permission street projects in Chicago that drew attention from the historic Chicago Mural Group. Joining CMG in 1983, they produced collaborative public art projects including playground structures, installations, and murals.
In 1989, Pounds became Director of the renamed Chicago Public Art Group, reflecting the many public art media in which the Group was now working. Committed to integrating personal and professional growth, Pounds developed the ability of the CPAG and its artists to respond more fully to community needs through contemporary art practices. CPAG has experienced significant growth under his 20-plus years of leadership.
In 2001, Pounds was awarded a Community Service Fellowship by the Chicago Community Trust. During his Fellowship he traveled in the U.S. and Europe, studying the intersection of urban planning, community development, and public art. In 2005, CPAG received a highly competitive Artography grant from the Ford Foundation Leveraging Investments in Creativity program, awarded to only nine arts organizations nationwide, in recognition of artistic excellence while involving communities in the creative process. Pounds has spoken, given workshops, and been a consultant to projects in cities nationwide and in Canada.
Despite the challenges of leading an arts organization through the 21st century recession, his optimism and sense of humor remain largely intact.