Cal Pritner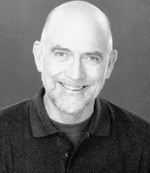 Cal Pritner (1935-2014) was an educator, writer, administrator, and actor. He was founding chairperson of the Illinois State University Theatre Department, and Founding artistic director of the Illinois Shakespeare Festival. On July 11, 2015, on the stage of the Illinois Shakespeare Festival, Cal was posthumously inducted as the very first Wonsook Kim College of Fine Arts Ovation Award in the Hall of Fame.
In Memoriam: Cal Pritner
By Scott Walters in The Clyde Fitch Report
I'd like to take this opportunity to remember a friend, teacher, co-author, and mentor whose passing and contribution to our current entertainment scene should be celebrated. His name was Cal Pritner, and he died of cancer on December 1, 2014 at the age of 79.
Pritner was an acting teacher and co-founder – along with the other members of the "Big Four": Jean Scharfenberg, John Kirk, and Ralph Lane – of the Theatre Department at Illinois State University, a department that has been strangely ignored by the theatre press over the years. Yet a partial list of ISU alumni during Pritner's tenure reads like a Who's Who in American film, theater and TV – Terry Kinney, Gary Cole, John Malkovich, Rondi Reed, Judith Ivey, Jeff Perry, Jane Lynch, Laurie Metcalf, Tom Irwin, Moira Harris, Gary Griffin, Randall Arney, Suzzanne Douglas and many other too numerous to mention. It might be argued– indeed, I will make that argument here – that the gritty, spare, hyper-real acting style that dominates television and film drama today is the direct result of the work and influence of many of the ISU alums whom Pritner taught, especially those who formed the Steppenwolf Theatre and who gave the Chicago theater scene it's distinctive style.
Pritner also founded the Illinois Shakespeare Festival in 1978, and it was there that I got to know him when, as a graduate student, I was hired first to be the Festival House Manager and eventually, several years later, to be Pritner's Assistant Artistic Director. I consider the time I spent hanging out with him on the grounds of the Festival theater to be my true graduate education. Pritner was an insightful observer of life and art, and his commentary, delivered with a crooked smile and a joyful cackle, illuminated what was most important about a topic. A teacher to the end, Pritner was always trying to uncover and communicate the underlying structure of theater, whether discussing acting choices, directorial approaches, or play analysis.
Pritner's directing style was spare, to say the least – his sets usually consisted of three benches on the thrust stage: one upstage center, and one in each of the down left and down right voms. For him, the focus of the audience should be on the actor telling a story clearly and honestly, and anything that got in the way of that was a distraction. It was during one festival rehearsal that I hear Pritner take a very young Reggie Hayes (another ISU alum) aside to discuss his seeming inability to maintain a straight face during the funny parts of the particular scene they were working on. "Reggie," Pritner drawled in his slow, loud Midwestern manner (anybody who knew Pritner at all well could do a fairly accurate imitation of him), "the thing about acting is… you're supposed to pretend like you are the guy." To this day, that's the clearest definition of acting I've ever heard. Pretend like you are the guy. Period.
Pritner was also an author of several textbooks – How to Speak Shakespeare (with Louis Colialianni) and Introduction to Play Analysis (with me) – and the same lean and direct style prevails in both (by means of illustration, the former is 160 pages long, the latter 144). For Pritner, acting wasn't about inspiration and mystery, it was a craft that could be learned if you thought about it a little and practiced a lot. He and I had quite a few conversations in later years concerning the importance of virtuosity – he was a self-confessed "elitist," always in search of an actor or production whose work stood above the rest. I, on the other hand, had come to put a great deal of weight on a more democratic, participatory approach to the arts. This disagreement led to quite a few lively discussions, including one in which he adamantly insisted that I was trying to take his ESPN professional softball games away in order to make him watch local softball games – a thought too shocking to be countenanced! Nevertheless, he would regularly forward articles he found online that he thought would appeal to me, sometimes with an eyebrow raised as subtext.
Pritner retired from ISU when he was 55 (after a few years, he would later take a job as chair of the Theatre Department at the University of Missouri at Kansas City before retiring again to New York City), and I was with him at the last Shakespeare Festival performance of his tenure. We spent the evening sitting in a couple chairs discussing his time "in the Shakespeare Industry," just like any other night. As the final moments of the play arrived, he stopped talking, rose, picked up the battered leather doctor's bag that he carried throughout his entire career, and walked across the grass to stand in the vom watching. I stayed behind, not wanting to interfere, and I remember seeing him standing there, silhouetted in the stage lights like Willy Loman with his sample case. FInally, the lights faded, the actors started taking their bows, and Pritner simply walked away toward the parking lot. There were no ceremonies, no calls to stage – he wouldn't have wanted a fuss – just a guy whose work was finished going home.
And that's how I imagined him when I heard he passed away, standing silhouetted with his bag in front of heaven's gates waiting for them to open.
He was one of the most honest, straight-forward and humble people I have ever met in the theatre. If you visit his Facebook page, you will see an outpouring of fond tributes from the "kid actors" he taught over the years. I think he, along with his colleagues, profoundly changed the face of the American theater for the better. He will be missed by many, including me.
-Scott Walters
Cal Pritner toured nationally with his one-man shows "Mark Twain Traveling," and "Mark Twain Unlearning Racism." Mark Twain was not Pritner's first encounter with great men in one-person plays. He impersonated the great lawyer, Clarence Darrow and the Protestant Reformation religious leader Martin Luther. In addition, as himself, he performed a one-person show about William Shakespeare and his attitudes toward women in "For Several Virtues Have I Liked Several Women"
In addition to his work as an actor and director in Chicago and New York, Pritner logged time in front of the camera. He has a recurring role in Chicago Story , was an Air Force officer on The A-Team , was a detective on HBO's The Speck Murders and on Hunter , and appeared on film as the governor of Missouri in Robert Altman's Kansas City .