Thom Schilling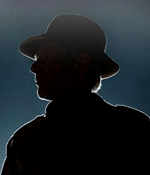 Ninety five percent of us all start at the same place, a desire to be on the stage. How we all got that snake-bit in the beginning that started the stage venom pulsing through our veins is everyone's individual story. Otherwise we can all point to that common desire.
Attending Illinois State University in the mid-seventies was an amazing experience. It was the time of America's Bi-Centennial and a major focus was on the arts. It was a time between the unstructured education methods of the 60's and the new structure of the 70's. The Vietnam war was over and all seemed right in the world. Illinois State was a place with a unique mixture of educators each with their own styles and personalities. I can point to four people who decidedly molded my artistic goals and accomplishments: Jean Scharfenberg was my muse, Ralph Lane was my nemesis, Michael Burke was my collaborator and Donald LaCasse was my rock. Each of them, however, pushed me in the directions I never thought I would go. Jean Scharfenberg requested that I write scores for her Shakespeare productions. I had never done that, but there I was writing a flamenco based score to Much Ado About Nothing with the collaboration of Philip Shaw as well as the score for a production of Romeo and Juliet. Ralph Lane suggested I choreograph his productions of The Berlin Stories and later The Threepenny Opera. I did make it to the stage now and again usually under the direction of Michael Burke ranging from a servant in The Rivals to Dr. Blinde in the opera Die Fiedermaus. I threw myself into everything: music, dance, writing, and acting – it was a most wonderful playground with limitless offerings. Other productions were the summer musicals: Brigadoon, Fiddler on the Roof, I even donned a wig, a dress, and learned to play the accordion for the onstage band in Scharfenberg's Cabaret. Donald LaCasse could see me spread myself so thin that he would bring me back to the reality of all these possibilities. At bottom, I was a lousy actor, and I believe Donald LaCasse made sure I left the university with a realistic direction. He introduced me to theatre management
I graduated, did a year of high school teaching, but had that urge to try my hand at the professional theatre. I wandered from Illinois to Dallas (not really paying much attention to what my classmates were doing in that church basement… Steppenwolf? Really? What were they thinking?) I wound up in New York City. It seems like I went back to square one… The stage. I eventually made my way back into an Agnes DeMile production. Agnes turned to me one day in rehearsal with the steely glare. "Young man, who hired you?" "You did, Miss de Mille." "Well you have an ability but you certainly have no talent!: You know what? She was right! But she never let me away from her side during that whole process. I was introduced to other directors, musical directors, and choreographers. What I discovered was although I wasn't a dancer, I wasn't an actor, I wasn't a musician, I wasn't a director, but I could communicate with all of them on a level above the norm. I realized I was to become a producer. I worked my way through stage managing national tours and working in theatrical management offices. I became the assistant to Elizabeth I McCann, an eleven-time Tony winning producer. Through her I worked with THE ROYAL SHAKESPEARE COMPANY, THE ROYAL NATIONAL THEATRE, THE PETER HALL COMPANY and many more amazing artists. Five wonderful years I spent as her associate. I then got a call regarding a new show, a new Broadway musical that the production supervisor thought might be a good place for me, Les Miserables. For over six years I stage managed the Broadway and touring productions, being given artistic charge. I was a specialist at putting new actors and non-actors into their first Broadway shows. Ricky Martin, Deborah Gibson, and Chanise were a few of the newcomers to study theatre from which I worked. Most recently I was asked to take American Idol celebrities Rubin Studdard, Frenchie Davis and others on tour with a production of Ain't Misbehavin'. The hip-hop company of Groovaloo Freestyle didn't know stage left from stage right when I joined them. From here I spread to leading companies in foreign markets that have very little experience at producing Broadway musicals, Grease in Brazil, Miss Saigon in Manila and at present, I act as Executive PRoducer of Nederlander worldwide Entertainment, specializing in taking contemporary musical theatre to China and the asian market.
There have been many experiences, but… what it all comes down to is that time in the '70s at Illinois State University where unique faculty urged a wild bunch of students to stretch their boundaries, and continually re-create themselves for new heights of imagination and creativity. Look at the list of graduates from then to today… They ain't bad company to have with you.