Peter F. Spooner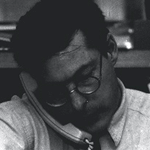 Born Burlington, Vermont, July 17, 1957; Has lived and worked in DUluth, MN, since 1992. Spouse, Jean T. Larson; children Daniel (1994) and Emma (1997).
Peter Spooner first studied art in the 1970s with Edwin Owre at the University of Vermont, and with Lillian Kennedy at the Vermont Institute of COmmunity Involvement (nor Burlington College). He credits Champlain Valley Union High School art teacher Ruth Fraser Furman the encouragement needed to float toward uncertain but satisfying goals in the arts. Peter earned a BS in Art Education from the University of Wisconsin Stout in 1983, and MS and MFA degrees in painting from Illinois State University (1986-88) where he worked primarily with Ron Jackson, and also with Lou Steinberg and Ray George.
Beginning in 1988, Spooner worked with ISU University Galleries Director Barry Blinderman and its then Curator Laurie Dahlberg, developing and facilitating educational programs for ground-breaking exhibitions like David Wojnarowicz: Tongues of Flame, and Keith Haring: Future Primeval. He replaced Dahlberg as Curator when she left to pursue a doctorate, and through 1992 curated a number of regional and national exhibitions, among them BIOkinetic (co-curator, 1989), Behind the Screen, Five Video Artists (1990), David Moreno: Beneath the Skin (1990), and Dennis Oppenheim: Drawing and Selected Sculpture (1992).
Spooner has organized a number of group exhibitions and catalogues around art and science themes, like Botanica and Mathematical Instinct, which traveled extensively in the U.S. at the Tweed Museum of Art, it has been his pleasure to work with historical European and American, and Native Collections. He has developed groundbreaking projects and publications rediscovering unresearched American artists, among them GIlbert MUnger, David Ericson, and Knute Heldner, and has organized the travel of the Tweed Museum's French Barbizon and 19th century American collections of Japan and Italy.
Spooner has taught art, art history and museum studies at a variety of levels and has published essays on the work of many contemporary artists, including Philip Pearlstein, Dennis Oppenheim, Jane Calvin, Rudy Autio, Alexis ROckman, Frank Big Bear, and the 19-20th c. artists Wanda Gag, GIlbert Munger, Eastman Johnson and David Ericson. His essay "David Wojnarowicz: Portrait of the Artist as X-Ray Technician," was published in SUspended License: Censorship at the Visual Arts, ed. Elizabeth Child's University of Washington Press, Seattle, 1997.
One of the great things about being a curator at a mid-sized university museum is that I get to work with a variety of material. This small 2010 exhibition featured the design work of BluDot, a MInneapolis company started by three artist/designers, which recently broke into a national market with some really unique marketing – see their YouYube video at: realgood.bluedot.com/thefilm
Draw to Live and Live to Draw: Prints and Illustrations by Wanda Gag, 2008-2009
Every state and region has a set of artists which are its distinctive treasures. In Minnesota, Wanda Gag (rhymes with log) is one. She's proudly claimed by New Ulm, a little Bohemian-German town south of Minneapolis where she grew up. Gag was fiercely independent, and in spite of having to raise her siblings after their parents died, she put them all through school, and eventually made a comfortable living off royalties from the books she illustrated – among them Millions of Cats, one of the most universally popular stories ever. Despite her notoriety, the exhibition I curated marked the first time her work had ever appeared north of Minneapolis.
This child's eye view of a sculptural installation by Ana-Lois Borzoi is part of an exhibition titled You and Yours, guest-curated for the Tweed museum by writer/Teacher Patricia Briggs in 2010. Briggs and I explored the museum's permanent collection together, and she latched on to the idea of family as a ubiquitous theme. She selected works from the permanent collection, and chose five artists and five videographers whose works responded to them. This facilitated mining of a museum's collections is now a common strategy.
The opportunity to work with Philip Pearlstein presented unique challenges – mainly, how to stress the fact that his observational painting of nudes and still life objects are based on abstract principles. One solution was to exhibit the paintings with the actual objects Pearlstein collected and posed with his models. This created a wonderful sense of play between the real objects in real space, and the levels of abstractions available through Pearlstein's images.
This work by Chicago artist Frances Yeatts Whitehead arose out of topographical "x,y,z" grid drawings she made of poppy flowers at a residency in Austria. An applied technology center at the University of Minnesota Duluth lent us the 3-D printer, which read the drawings and printed them as polystyrene sculptures. One work from Contemporary Art and the Mathematical Instinct (2003-04) - a show featuring 44 artists using mathematical concepts, algorithms, and number theory as the basis of their work
From the same Mathematical Instinct Exhibition, Ken RInaldo's robotic "arm" uses sensors and A-life algorithms to respond to stimuli. Pictures is the Tweed Museum's Director of Education, SUsan Hudec, an ISU Studio Art grad, who began her museum career as an intern at University Galleries.
Juan Logan: The Third Place (2006-07)
Logan's art explores the psychological and social impact of racism, social change, injustice, and ignorance. His imagery is derived from the specialized iconography and rituals of African American life in the rural South, reflecting his deeply rooted heritage. His work turns on historical, social, and linguistic codes -- he uses "Mammy" icons, or black "lawn jockeys," as leitmotifs of history, race, and gender, to directly confront all viewers of his work.
Honoring Tradition: Finnish and Sami-Inspired Textiles (2008)
Every region has a set of ethnic traditions borne out in material culture. Woven textiles inspired by FInnish and Sami (Indigenous FInlanders) techniques and designs are still created in the American upper midwest and Canada. Tradition and Innovation was co-organized by Marlene Wisuri, historian, Mary Erickson, textile artist, and Peter Spooner of the Tweed Museum of Art. The current president of Finland, visited the exhibition in conjunction with International FinnFest, hosted by Duluth, Minnesota, in 2008.
At Home(s): A Window into the World of Duluth's Collectors Community Curators Series: Mining the Museum (2008) The Jacobean estate built by mining magnate Chester Congdon in 1908 is operated as a historic house by the UMD School of FIne Arts. Called Glensheen, the estate's collections of fine and decorative art, furniture and architecture, provide material for research and exhibition. Guest curator Jennifer Webb, Assistant Art History Professor, UMD, used objects from Tweed, Glensheen, and the Ramseyer Bible Collection to explore collecting in Duluth, circa 1910.
Luiz Gonzales Palma (2009)
A Guatemalan-born photographer now living in New York and Buenos Aires, Palma's language is one of melancholy, solitude, and romantic isolation. His practice involves the use of collage, toned printing, printing on foils, and otherwise artificially distressing the photographic print. This exhibition was organized, and works added to the Tweed Museum collection, with the assistance of Weinstein Gallery, Minneapolis and Martha Schneider Gallery, Chicago.
From Dreams We May Learn: Paintings by Rabbett Before Horses (2007)
Rabbet Before Horses (Robert Strickland) is an Ojibwe member of Wisconsin's Red Cliff Band. An artist of distinction who models his work after Renaissance masters, Rabbett Before Horses narrates Ojibwe mythology for a contemporary audience. The Tweed Museum of Art actively collects, interprets and publishes art by contemporary American-Indian artists.
In the mid-1990s, the Tweed Museum established a relationship with Richard and Dorothy Nelson, collectors of Ojibwe and Eastern Woodlands art, artifacts, archival documents, and contemporary American-Indian art. Along with an extensive research library, the collection was donated to the museum in 2008. Selections are on view on rotating basis, in specially designed casework built with funds raised by the Tweed Museum Advisory Board.
Known for its collections of Native art and artifacts, the Tweed Museum now attracts other related donations. A 2009 donation included a group of yarn paintings by indigenous Mexican Huichol Indians, based on Peyote religion symbolism. Along with conceiving exhibitions, my curatorial position includes recommending acquisitions for the museum.
Strategic Dysfunction: Sculpture by Amy Toscani & Amy Youngs (2005)
Two young artists, both with backgrounds in exhibition design and fabrication, take very different approaches to sculpture. Toscani's bright assemblages of recycled materials have the look of super-sized toys and quirky machines; Young's recycled technological devices, like this one positioning infrared cameras and super-sensitive microphones in a worm composting bin, amplify what we often overlook in nature.
Archetypes and Armatures: Sculpture and Drawings by John Orth (2007)
The Tweed Museum of Art presents many Minnesota artists at mid or late career, providing them with critical assessment, and often their first exhibition catalogue. This is the case with John Orth, a Minneapolis sculptor trained at the University of Iowa and the New York Studio School. Orth's unique brand of conceptualism includes references to its own processes of fabrication, and to the mechanics of simple tools and devices.
As a university museum, Tweed's collections are often deployed in the service of education. Here, Intern I students work with curator Peter Spooner, learning the process of inventorying and assessing a group or collection of objects.
Spirals in Space and Time: The Art of Leslie Bohenkamp (1942-1991)
Every exhibition offers the opportunity to present the artist's work in a new way. Sometimes this has everything to do with the space it is presented in. Tweed's Sax Gallery is a 22-foot-high space originally designed for large sculpture. The presentation of fiber and paper sculpture by the late Les Bohenkamp was especially successful in this space – visitors loved the play between the small "herds" of colorful coiled paper, and the larger "shells" and "horns" of knotted fiber. Bohnenkamp exhibited regularly with Betty Parsons, until an accident rendered him unable to work in the late 1980s.
Sue Johnson: The Alternate Encyclopedia (2004)
A project of 15 years, Sue Johnson's Alternate Encyclopedia uses printmaking, vintage collections, and installation strategies to further the artist's interest in nature subsumed by culture. This installation shot focuses on "Creepy Crawlers" a popular toy that allowed kids my age to make edible bugs
David Ericson: Always Returning (2005)
The most celebrated artist to emerge from Duluth in the early 1900s was a Swedish-born Axel David Ericson (1989-1946). His is a "rags-to-riches" story of an impoverished immigrant boy beating the odds and making good, with the help of local citizens. Tweed is fortunate to possess examples from all phases of his career, from his early academic genre scenes and portraits to his later impressionist landscapes. It is incumbent upon regional museums with collections to document and present their state's well-known artists, since they are often the main repository for their art and archives.
Gilbert Munger: Quest for Distinction (2003)
This project involved the rediscovery of a forgotten American painter, whose work bridges gaps between the Hudson River School, and American West, and the French Barbizon School. Munger began at age 13 as an apprentice engraver for the  Smithsonian Institution, and was a guest artist for Clarence King's Survey of the 40th Parallel. He spent the next 16 years in Europe, honored by heads of state, yet a decade after his 1893 return to America, he died penniless and forgotten.
Funded in part by a generous grant from the Henry Luce Foundation, the Tweed exhibition and book reinserted Munger into American art history, and allowed for the launch of a successful online catalogue raisonné, at GilbertMunger.org.
The exhibition traveled to: The North Point Gallery, San Francisco, CA; University of Utah Art Museum; and the Lyman Allyn Art Museum, New London, CT.
Dennis Oppenheim remains one of my favorite contemporary artists, one I would recommend to any age or level of student. I have had the opportunity to curate two exhibitions of his work, in 1991-092 at University Galleries, ISU, and again in 1996 at the Tweed Museum of Art. Oppenheim's art is of lasting interest to me because its form-content quotient semes consistently balanced. As my brother used to say: "It says what it means, and it means what it says"