Deborah Barylski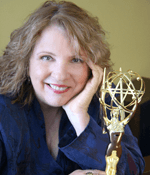 Deborah Barylski (Master's in Directing, 1973) is an Emmy-Awarding winning casting director, a career that spans twenty-nine years (1981-present). Some of her most recent credits are ARRESTED DEVELOPMENT, THE MIDDLE, LIFE WITH BONNIE, STILL STANDING, HOME IMPROVEMENT and JUST SHOOT ME, as well as past favorites FRANK'S PLACE, THE FAMOUS TEDDY Z, THUNDER ALLEY and DOCTOR, DOCTOR. She also cast the feature PASTIME, which won the Audience Award at Sundance in 1990. She was nominated for the Artios Award for excellence in casting seven times, and won the Artios in 2004 for ARRESTED DEVELOPMENT.
She trained for her casting career at the prestigious MTM Studios where she worked on such classics as ST. ELSEWHERE, LOU GRANT, THE BOB NEWHART SHOW (the one with the Inn), REMINGTON STEELE and THE DUCK FACTORY (Jim Carrey's first television show). Before casting on her own, she worked with Blake Edwards on a CITY HEAT and MICKI AND MAUDE, and with Taylor Hackford on WHITE NIGHTS.
Before breaking into casting, Barylski help a number of positions that grew out of her two-year graduate assistantship in theatre management. Her first job after graduate school was as the Box Office Manager for the Inaugural Season of the Braden Auditorium, 1973-74. From there, she was awarded the first Robert C. Schnitzer Internship in Theatre Management from The University of Michigan in Ann Arbor, where she served as the Assistant Manager of the Professional Theatre Program. During the yearlong internship she supervised publicity and promotion for the Theatre Department productions, for a professional theatre series at the Power Center, and for one-month residency of John Houseman's The Acting Company. She also organized an International Experimental Theatre Festival held in on the University campus.
She came to the attention of Dr. Ralph W. Duckwell, Theatre Chair at California State Long Beach, who recruited Barylski to his faculty in 1975. She taught acting, directing and theatre management as well as serving as Business Manager of the department for three years. While in Long Beach, she also served as Company Manager for The Dance Company, a professional dance company based in Pasadena, California and Business Manager for Long Beach Civic Light Opera. In 1978 she moved to Alaska to become the Publicity Director and Box Office Manager of the Performing Arts Center at the University of Alaska campus in Anchorage. She held this position for two years before returning to Los Angeles to serve as the Publicity Director for South Coast Rep in Costa Mesa, California.