Michael Vetere III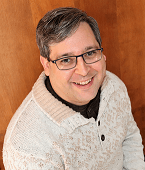 Michael J. Vetere III received his Doctor of Education (Ed.D.) from Illinois State University, a Masters of Fine Arts (M.F.A.) from Virginia Commonwealth University in theatre pedagogy, and his Bachelors of Fine Arts (B.F.A.) from West Virginia University in creative dramatics, puppetry, and youth theatre. He taught and directed creative dramatics and puppetry programs in West Virginia, Virginia, Pennsylvania, and the Washington D.C. area.
Veterere's performing and teaching credits include The Puppet Co., Spectrum Puppets, Suspended Belief Theatre, and Milwaukee Rep. He has trained at the Sandglass Theatre Puppet Intensive, Marlboro, VT; Banff Puppetry Intensive with Olde Trout Puppet Theatre, Banff, AB; and with Puppetry in Prague Workshop, Washington, D.C.
Vetere is a published author and has presented at state, regional, and national conferences on various topics including puppetry in education, creative dramatics, and arts integration. Currently, he is an Associate Professor of Creative Drama and Puppetry at Illinois State University and coordinates a Saturday program for youth grades K-6.
View Faculty/Staff Information